Megan Fox
(real name: Megan Denise Fox) was born on May 16, 1986 is a Hollywood actress & model. She is known for her roles on the TV series
Hope & Faith
(2004) and in the 2007 hit film
Transformers
.
Megan Fox
's big break arrived when she acquired the lead girl role of
Mikaela Banes
in the
Transformers
movie. She played the love interest of
Shia LaBeouf
's character
Sam Witwicky
. The film premiered in October 2008, and she has signed on for two more
Transformers
sequels.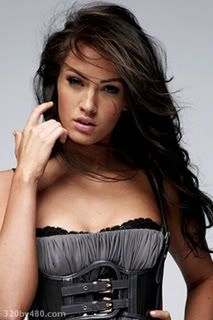 Megan Fox Films:
2001 Holiday in the Sun
2004 Confessions of a Teenage Drama Queen
2004 Crimes of Fashion Candace
2007 Transformers
2008 How to Lose Friends & Alienate People
2009 Jennifer's Body
2009 Transformers: Revenge of the Fallen